Chapter 5 - South to San Diego
Santa Cruz Island to Long Beach
The number of projects to be completed before leaving the U.S. is diminishing. I'm starting to feel good about our preparedness. Candace really has done a great job in the provisioning and food planning area. More than that, she's made the boat very comfortable and clean. She's also concentrated on the medical side of things. Because of my asthma, I couldn't get any health insurance after COBRA runs out. The PPO plan at work didn't provide any coverage outside of the Seattle area. So we've been without ANY health coverage since leaving Seattle. Once we leave the U.S. we can be covered under an International Plan which is provided by a company in England. Hopefully that will be as good as it appears. Just 305 pounds per year (less than $500) and I'll be covered for 100% of all in-patient expenses, both hospital and medical, with a £50,000 maximum per year. However, it doesn't apply in the U.S. or Canada. Candace's premium is even less!
We've met some fun cruisers. A couple from Alaska has been most helpful, especially in the ham radio area. I should have the weatherfax working perfectly in about a week. It's been one of the lowest priorities. I'm getting down to the bottom of the list! On October 22 we left Santa Barbara. After 13 days we were starting to get marina rot. It was good to get back on the sea. We left, with our friends Chuck and Bev from Alaska, for Santa Cruz Island. On the way we saw about eight Dall Porpoises . . . the first we'd seen since Puget Sound, one shark, and many seals. More importantly, the seals had several babies. It was neat to see the little baby seals, perhaps 18 inches long, jumping and swimming. Unlike the seals we'd seen so often between SF and SB, these seals had ears. We anchored at China Harbor on Santa Cruz Island the first night, and Prisoners Harbor, slightly to the west, the next night.
After getting the weatherfax working, I received a weatherfax, on the ham radio, from Hawaii, which was converted via the modem into the computer. I did some editing and then printed out the weather map for the north Pacific. Unfortunately, it showed a big storm coming. I also used this PK-232 system to "listen" to two ham operators using Morse code. The system interprets the dots and dashes, and just prints out the words on the computer screen. For my first "translation" I got a gushy conversation between a guy in Colorado Springs and a girl in Tucson. ("I love you very much"..."You're the best" . . . etc.) That was kind of fun. I trolled a line trying to catch dinner, but without success. That was the first time I'd done any fishing on the trip.
We planned to leave early, at 0430 on October 25th, for the long trip to Redondo Beach, just south of Marina Del Rey. However, the wind came up quite strongly from the North, making our anchorage extremely uncomfortable, and dangerous, with a lee shore. So we got up to leave at 0250! We hadn't slept any, because of the noise and rocking. The 66 mile trip was accompanied with 10-11 foot seas and winds in the mid 20 knot range. Both Candace and I were very tired and quite seasick. It was not a pleasant journey.
When we turned to port to duck behind the breakwater at Redondo Beach's King Harbor Marina, the wind hit our dinghy broadside and it flew off the boat. We quickly did a 180 degree turn, Candace grabbed the boat hook, and she retrieved the dinghy before the large waves could push us onto the beach. Whew! Because of the closeness of the beach, we knew we only would have one shot at getting our dinghy back. Even in the harbor, there were gusts up to 30 knots, and waves were breaking over the breakwater. We put out a bow anchor with plenty of scope, as well a stern anchor to keep us pointed into the wind.
Despite the winds, it was a smooth and pleasant anchorage. The next day I got two new lures, and one worked great. I caught one mackerel, about 18 inches long. It tasted "mushy" and we threw it out. I also caught a Pacific Bonito, about 24 inches long. The first night it was fried and the second night it was poached, with onions, tomatoes, green olives, and spices.
From Redondo Beach we then went to Long Beach where we had to pay $18 just to use some mooring buoys! On Sunday morning, October 29, we were awaken by some Santa Ana winds, up to 25 knots. Talk about a "mailman's holiday," we spent five hours at the Long Beach boat show. We finally took the plunge and ordered insulators for the backstays to obtain the best possible reception for the ham radio. We also got some aluminum propane tanks to replace the steel ones which were rusting away. The stove, and the BBQ, use propane. Because each of our new tanks holds 5 gallons of LPG (20 pounds), they may last us about 3 or 4 months before needing to be refilled.
Sunday night, we went out to dinner with Doyal and Wilmoth Boring. He's a Principal in the Mercer LA office, and a long time friend and sailor. Doyal actually saw Baba BarAnn in Marina Del Rey, before we did, and sent us many pictures.
Queen Mary and Candace
On Monday we played tourist, and saw the Spruce Goose [now in  McMinnville, Oregon] and the Queen Mary. We really enjoyed both attractions. Howard Hughes, like W.R.Hearst, seemed larger than life. Both had tons of money, were successful simultaneously in movies and another endeavor, and squired the most beautiful movie actresses.
On Tuesday we continued south, just a few miles, to Alamitos Bay. Here we stayed at a dock and enjoyed shore power and water. Candace spent many hours cleaning off the Santa Ana dust that covered the boat during Sunday's wind. We got some more spare parts at West Marine, and filled our new propane tanks.
One of the projects I've been working on is an audible alarm for the bilge. I found just what I wanted. If our automatic bilge pump is overwhelmed and water rises more than 3 inches above it, then my new alarm will set off a buzzer. So many other systems I'd seen either have the buzzer connected to the bilge pump (causing the alarm to always go off whenever the bilge pump runs) or have an alarm that is tied into the ship's electrical system. Since one reason for failure of the bilge pump is battery failure, it seems crazy to have an alarm which uses the same battery system. This new alarm just uses two 9 volt batteries, requires no wiring, and costs about half as much.
I ordered four 30 watt, Solarex solar panels, to be picked up in San Diego. I hope these will produce 50-60 amp hours per day of clean, quiet electricity. Between them and the windmill, I should need to run the diesel engine to generate additional power only a few hours per week. Of course, it's really difficult to judge our needs in tropical climates. Refrigeration consumes 60 to 80 percent of our electrical diet. Just how good will the fridge's insulation be when it gets hot?
During the first week of November, it's been very cold during mornings in LA (into the 40's), but it warms to shirt sleeve weather by noon. Unfortunately, the boat's heating system hasn't worked since leaving Seattle. So we wear lots of sweaters or sweatshirts to keep warm during the mornings and evenings. Tonight we're puttin' another blanket on the bed! We've been hearing that Newport Beach is extremely crowded and not that nice a place to "visit." However, the backstay insulators, which I'd ordered at the boat show, were to be picked up in Newport Beach.
On Wednesday, November 1, I was talking to a guy on the dock who was interested in buying a boat that was for sale at this marina. He was very friendly, like almost everyone in California, and offered to give me a ride to Newport Beach to pick up the insulators. I hopped into his Mercedes and headed to Newport Beach, about 30 minutes south of Long Beach. After picking up the insulators, he decided to give me a ride back to the marina. Fantastic. Now Baba BarAnn didn't have to go to Newport Beach, and I could install the insulators while using the good facilities of the marina.
The next morning I went up in the bosun chair and removed the backstay. It was a bit scary, being at the top of the mast with no backstay support. Since our mast is stepped on the keel, as opposed to the deck, my fears were partially assuaged. Then I cut the backstay in two places, and put in the insulators, exactly 32 feet 10 inches apart. That's the distance that's perfect for the 20 meter ham radio band that we use the most. Other bands are also available because we have an automatic antenna tuner. Needless to say, the most scary job was cutting the backstay, since it's such an important component of the rig. Everything seemed to work out perfectly, and we were using our new antenna that night. We talked to our friends, Chuck and Bev on Carina who were still anchored over by the Spruce Goose & Queen Mary. They said our signal was loud and clear.
On Friday night we went to a Chinese restaurant with a cruising couple from Fairbanks, AK. They had sailed from Mexico to Hawaii last year, and back to Long Beach in the summer. Their boat is only 28 feet long, but is quite seaworthy. Unlike most cruising couples, he's the one that gets seasick the most. We had noticed that our new windlass, installed just last July, already was showing lots of electrolysis. It was improperly installed since there was no barrier between the aluminum windlass and the stainless steel mounting bracket. With a little salt water, electrolysis was attacking the "less noble" aluminum. So on Saturday, I took off the windlass and inserted a heavy duty vinyl barrier. Of course there was much corrosion, and it took about all day. With all the people down at the marina on the weekend, there was a never-ending stream of people offering help and assistance, and in particular, tools to borrow.
That night we were invited to dinner on Lightnin' by a couple we'd met at the marina. Lightnin' was formerly owned by Ted Turner, and is more of a racing boat than a cruising boat. But Blair and Kathy have done a great job remodeling it. They're planning to leave for the Marquesas next March. It was a great dinner with shrimp and fettuccine.
Santa Catalina
Sunday morning we left for Santa Catalina Island. That night we stayed at Emerald Bay (aptly named), and the next two at the Isthmus. Anchoring for free is not allowed on Catalina. You have to pick up a floating "wand" which has lines attached to a mooring buoy on one end for the bow, and a stern anchor on the other end. The winter rates are pretty cheap, $26 for the entire week. For the most part we just read, wrote, and relaxed. We noticed that the automatic bilge pump was being "called on" a few times per day, whereas formerly it ran about once a week. I found a slow, drip-drip, leak coming from our stuffing box. In order to work properly, it must drip a little, but this was a bit too much and will have to be fixed very shortly.
I've also been looking into roller furling systems that would be a lot better than the Mariner System we used to have. Initially I was attracted to the Hood LD system that uses a continuous line, rather than have the line accumulate on a drum like all the other systems. Now I'm leaning toward a Pro Furl system. On Wednesday, November 8, we left Santa Catalina Island for Dana Point. We had by far the best sail of our entire trip. Smooth seas, 9-14 knot winds on the beam, and blue skies. The windvane steered almost all the way, our speed peaked at 7.35 knots, and our navigation was flawless. Perfect.
I even tried out two sun sights with the sextant. Both put us within one mile of our position as reported by LORAN. That's quite encouraging. I realize that the sextant won't be as accurate with rough seas, and worthless when it's cloudy or dark, but it's reassuring that celestial navigation works so well at other times. When we pulled into the anchorage at Dana Point, we noticed the same Canadian boat that was next to us at the San Francisco Municipal Marina when we overhung the pier by so much. They shared some tips about getting all the paper work done with the Mexican authorities. Dana Point looked like a very nice spot, perhaps the nicest we've been to since Seattle. It would have been nice to stay longer. There was an old tall ship, named Pilgrim, moored next to us. About 30 grade school kids spent the night on the boat and learned about the seafaring life 200 years ago. They were really having a good time.

San Diego
On Thursday we headed for Mission Bay in San Diego . . . our last port of call in the USA. Another sun sight with the sextant put us less than one-half a mile away from my LORAN position (I think the LORAN is off!) I also received and printed out a weatherfax of the northeastern Pacific Ocean. Looks like ugly weather in Washington state, with a couple of nice highs foretelling continued good weather in southern California. Candace is studying Spanish everyday now.
Just north of Mission Bay we encountered a gigantic kelp bed, perhaps five miles long by two miles wide. Of course some kelp wrapped around our prop, but that was easily cleaned off after we anchored.
We're here in San Diego, two thirds of the way to Cabo San Lucas and about 1,400 miles from Seattle. Except for the Mariner roller furling, there have been no major problems. Ruining our cameras with that wave in San Simeon was pretty bad, but they were vulnerable and likely to be totaled sooner or later. Now its time for final provisioning, getting our Mexican paper work completed, as well as our Mexican ham licenses, and finishing the final projects.
The weather in San Diego is fantastic. We even had time to go to the San Diego Zoo. On November 21 we motored around Point Loma to San Diego to get a little closer to the "action." Do you remember the America Cup races were called the "Coma off Pt. Loma" by some sportswriter who was bored with the mismatch between the "cat and the dog?" Of course that was a takeoff on the Ali/Frazer heavyweight fight billed as the "Thrilla in Manila." Lest I digress, San Diego is really quite the sailing Mecca, and they're still into the America's Cup. All the banks, the Post Office, and all the stores have sailing pictures on the walls. Bumper stickers query "To sail, or to varnish, that is the question" or perhaps, "Read the Deed," following the theme of the America Cup court proceedings.
Before San Diego, we spent twelve days in Mission Bay. The anchoring rules only allow four days at anchor per week in Mission Bay, so we spent four days on the hook in beautiful Mariner's Cove, four on the dock at the Hyatt Islandia Marina, and then four back in the cove. Except for a visit from Candace's parents who had driven their RV from Houston, it was a period of non-stop projects. Redo the brightwork, following up on the promise we made in Benicia to keep it looking nice; minor rewiring on the windmill; and finish installing the ham antenna. Actually, hams never finish tinkering with their antennas. That's why they spend 90% of the time talking about them.
We bought a ProFurl roller furling system for the headsail, but not one for the staysail, two large M-55 ARCO solar panels (they've temporarily stopped making the Solvonics ones that I had originally ordered), spare light bulbs for all the lights, a stainless steel cable to lock the dinghy, several filters and a repair kit for the water maker. Finally, we both got a spare pair of eyeglasses, and carbon paper to help us fill out the multiple copies of Mexican paperwork. Can you imagine the bill we're running up on our VISA card? Many of the other cruisers who are "headin' south" are spending just as crazily as we are. It's a feeding frenzy at the marine stores in San Diego!
In contrast to all the pro sailing vibes exuded by business and the general public in San Diego, their Harbor Police has made it quite difficult for cruisers. Unlike any other port on the West Coast that we've been to, San Diego is the only one that requires a boat anchored during daylight hours to hoist a black ball, twelve inches in diameter. We stuffed some laundry in a black plastic trash bag, tied it up in a roundish bundle, and hoisted it for all the harbor police to see. They also require anchor lights to be lit at least twenty minutes before sunset. Anyway, we complied, even though it wasted electricity. The harbor police also give tickets if you're in a dinghy that's not registered. In Washington state, a small dinghy is not required to be registered so long as there's no motor on it. Finally they require a dinghy to display red and green running lights, as well as a white stern light, if being operated at night. The fines for these "infractions" are in the $75 to $125 range. What a hassle! To make matters worse, the only legal anchorage is between the San Diego airport and the Navy's airport, so it's quite noisy.
We put up with that crap for only one night while we checked out the marinas. We found a good spot for $15 per night in Commercial Basin on Shelter Island near all the marine stores. Seattleites would be surprised to see the Gestapo-like harbor police of southern California. When I checked into the Santa Barbara marina I was intimidated by the large revolvers strapped on their hips. In order to use the marina, not only do you have to pay some inflated price, but you also have to show your current, unexpired, state boaters' registration. Then the police actually check that the registration numbers and the boat description match with your registration. All this is done in an unfriendly, confrontational atmosphere. When you're used to dealing with the friendly Californians that I've talked so much about earlier, it's quite a shock to be treated like a hardened criminal just to pay a ridiculous price for a dock. This has been the case in every municipal marina in Southern California. Northern California is a different state!
Shelter Island. What a great spot for cruisers! There are more than twenty stores selling various stuff and services for boaters . . . all within walking distance. Plus laundromats, banks, grocery stores, and restaurants galore. We checked in with the Downwind Marine Store which seems to try harder than any other, catering to the cruisers heading to Mexico. They provide many services, for free, just on the chance you'll spend what's left of your cruising kitty with them. For example, they will forward mail to us in Mexico. They have a beat up truck which we can use for free. We've signed up for it on Friday to do a bunch of errands in downtown San Diego. They monitor several ham nets and will forward messages to us. This will allow people to call Downwind Marine in San Diego (619-224-2733) to forward a non-business message to us via the ham radio. Even if we're not listening to the net that day, another cruiser who's in our vicinity may hear the message and volunteer to forward it to us. This is great.
I spent almost all of Thanksgiving Day installing the new ProFurl system. This was quite an undertaking, but everything seemed to go smoothly. First I had to go up in the bosun chair and remove the headstay. Then all the aluminum extrusions and the rest of the system had to be installed on the forestay while it was on the dock. Then the tricky part was reattaching the forestay, with all the heavy furling system on it, without bending it. With a long line in hand, Candace went to the top of the mast in the bosun chair and lead it through a turning block. I put the heavy furling drum, which is at the bottom of the forestay, in a Styrofoam box. One end of the long line was attached to the top of the forestay and the other end was wrapped around a jib winch. As I started to winch up the top of the forestay, the Styrofoam box/sled at the bottom slid smoothly along the dock. This approach worked perfectly, and we hoisted the furling system without bending it. I can't wait to try it out.
Candace fixed a small, 9 pound, turkey with stuffing and gravy, then topped it off with pumpkin pie. Like most Americans, we had leftover turkey for several days. We were thankful for many, many things.

Final Preparations
On Friday, we borrowed the Downwind Marine beater truck and went downtown to get our Mexican cruising papers. Whether or not one fishes, it's necessary to get a fishing license for the boat, the dinghy, and all people on board. That set us back $61. The Tourist Permit was free, but something else cost $16. Candace picked up another how-to-speak Spanish book, and I picked up a spare start-stop switch for the windmill. In San Diego we had the diesel engine serviced. Not too surprisingly it had been knocked out of alignment somewhat by the "Delta Danforth." We picked up a spare fan and module (the "brains") for the refrigerator. Everything we've heard tells us that our Adler Barbour large cold machine will break down under constant running in the tropics. So we're preparing as best we can.
We had noticed that the water was tasting a little bit "moldy," so Candace emptied all the tanks and cleaned them as best she could. Then she treated them with bleach, flushed them a few times, and then refilled them. This was a good task to complete while we had easy access to a plentiful water supply. I installed a charcoal water filter for the galley foot pump. We noticed an immediate improvement in water quality. I purchased another 150 feet of chain. The 200 feet we already had plus the new chain were joined together to form a single, 350 foot long, all chain anchor rode. We want all chain to avoid chafing in coral anchorages. I stretched it out along the dock, up and back in 25 foot segments. Then I spray painted red marks at 25', 75', 125', etc., and white marks at 50', 100', 150', etc. With these marks on the chain, it's easy to let out the desired amount while anchoring.
One project I didn't get around to completing was calibration of the boat speed/log. The initial adjustment, after the instrument was fixed in Redondo Beach, was made strictly from the memory that we went about 6.25 knots when the motor ran at 2,400 RPMs. That should be close enough for government work!
Old Town shop in San Diego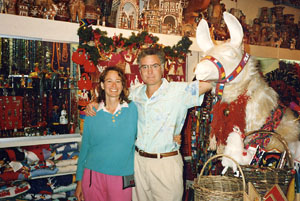 We made radio contact with Chuck and Bev on Carina for the first time in weeks. They were "around the corner" in Mission Bay. Together we rented a car and drove to Mexicali to get our Mexican ham licenses. What a hassle. Virtually every other country in the world has free reciprocity concerning the licensing of foreign hams. Not Mexico. It's a 2.5 hour trip to Mexicali, the capital of Baja California Norte. At the border, I exchanged less than $400 for a million pesos. I guess that makes us Mexican millionaires! Then we drove around from the "Direccion General De Normatividad Y Control De Communicaciones," to a store to get four copies made (they didn't even have a copy machine in the government building), then to a bank to pay 76,000 pesos and finally back to the government building to get the final papers stamped. Afterwards we went to a new shopping mall in Mexicali, had lunch and ice cream cones, then headed back to San Diego. It was fun trying to communicate in Spanish. Everyone was friendly, and getting in and out of the country was "no problemo."
One of the last projects before heading south was the mounting of the solar panels. They have to be moved around to get optimum output from the sun. I built a frame to hold both panels and completed the wiring. I hope my arrangement works. Every boat seems to have a different idea when it comes to mounting solar panels. That's because there really isn't a single best solution.
We bought a Mexican flag, and a new USA flag since ours was kind of frayed. Candace also made a Q flag. That's a solid yellow flag that's hoisted when you sail into a new country and request clearance. Final food purchases were completed and we declared we were ready. Now it's time to have fun.