Chapter 16 - Touring New Zealand
NZ Sightseeing Trip
Now we're (well actually Candace is doing most of the work) busy planning a sightseeing trip around New Zealand. We're getting a train-bus-ferry pass that will allow us to go anywhere, and everywhere, around the country for two weeks. We won't be part of any tour group, but it will be hectic just the same. "If this is Tuesday, it must be Christchurch!" We'll spend several nights in hostels, our first nights not sleeping on the boat since June 1989. I'm really looking forward to the TranzAlpine train ride from Christchurch over the "southern Alps." We'll take lots of photos. We'll travel almost 2,000 miles. Since the roads are as wild as the NZ drivers, it seems highly likely that another broken windshield, hundreds of miles from any garage, could occur if we had to drive. Since I HATE long distance driving, I'm glad we're leaving the driving to them.
Of course we'll take the laptop computer. With many hours sitting on trains and busses, there will be lots of time for writing and playing/working on my bridge program. However, that presented a logistical problem . . . how to recharge the computer. The English boat next to us, Spray Venture, has a 240 VAC to 120 VAC transformer, with a "Kiwi plug" (three angled prongs) on one end, and a US 120 double prong on the other. They used the transformer to run English 240 appliances on 120 current in Canada and the US. By just reversing the plugs, the transformer works fine here, converting 240 VAC to 120. After doing the rewiring and testing, I then discovered that the Toshiba computer's battery charger will accept either 120 or 240. My electric razor will accept ANYTHING from 12 volts DC to 240 volts AC. I didn't need any transformer. All I needed was an extension chord with a Kiwi male plug and a US female three hole socket. Of course that was easy enough to create.
Yesterday I purchased another battery pack for the Toshiba, so we should be able to "go" four hours per day, rather than two, then recharge at night. Meanwhile, we're completing a large checklist of maintenance items on the boat. Wax the hull, clean and polish all the stainless steel, engine oil, filters, lube, clean water tanks, reprovision lots of food for the return trip, regalvanize the chain and anchors, outboard motor maintenance, sail repairs, replace halyards and sheets, haul the boat for bottom painting, and so on and so on. We keep looking for our article "Bon Jour from Bora Bora" which we expect to be published in 48 North. Candace had an article published in Burgee Magazine (that small one out of southern Cal) and had three recipes accepted for publication by Cruising World. Don't know when they will print them. May even have a photo. Another boat on the dock, Footloose, had some recipes published in the December '90 edition of CW.

Sunburn
You've read about the "hole" in the ozone layer. It's supposed to be larger over the South Pole than over the North Pole. I concur with the Kiwi's that ultra violet rays from the Sun seem to be MUCH stronger here, close to the South Pole, than any place. Even stronger than the tropics. It seems to be much easier to get sunburned here, and I have to watch it. The fair-skinned Kiwi's are really susceptible to burning, and they're extremely concerned with sunburn (rightfully so). Radios and newspapers continually warn people "put on sun block." I'm sure that other countries would eliminate freon immediately if they saw what's happening here, right now.

It's a Hard Life
Three days before our trip to the South Island, we had the boat hauled and stored "on the hard." It was time to repaint the bottom with anti-fouling and complete other out-of-the-water maintenance projects. This was last done 15 months ago in Santa Barbara. Two large straps are placed under the boat and then all 15 tons are lifted up, out of the water by a "TravelLift." Then the boat is driven over to a cradle and gently set down. Being a large boat yard, there were 20-25 other boats also on the hard, also being scraped, sanded, painted, and otherwise repaired.
Living "on the hard" is a royal pain. To board, you have to climb 15 feet up a rickety ladder. Since my battery charger can't handle the 50 hertz electricity here, and the diesel engine can't be run because it's water cooled, the only way to charge our batteries is with our solar panels. That provides sufficient energy for lights, radios, pumps, etc., but not enough to run the refrigerator. So we had to turn it off . . . a good opportunity to defrost and clean it. When the wind blows, the boat shakes just enough to make you think it might blow off the cradle. In summary, it's unnatural and uncomfortable. Due to my asthma, we decided it would be best to pay someone to sand and paint the bottom of Baba BarAnn. While that work was being done, Candace and I left the boat for a two week sightseeing trip around New Zealand.

InterCity TravelPass
For $206US a piece, we purchased a 14 day TravelPass that allowed us to travel by bus, train, and ferry boat throughout New Zealand. We put together an ambitious itinerary that covered most of the country south of Auckland. Each night we stayed in a bed & breakfast lodge, average cost $37 US. On the first day, a friend drove us to Auckland where the train took us to Wellington. The next morning we took a ferry boat across Cook Strait to Picton on the South Island, and then the train to Christchurch. The weather was uncharacteristically beautiful that day, with bright sun, a gentle breeze, and 80 degree temperatures. The wind usually whistles through the Strait and can kick up some large waves. We were lucky.
Christchurch, with about 100,000 people, is NZ's third largest city. It's very clean and sylvan. There's a gigantic park in the center . . . with a golf course tucked in one corner, rugby and cricket playing fields, walking paths, and much open space, all kept in pristine condition. There are large trees everywhere, and a small river that meanders through downtown. We enjoyed a few hours in its large botanical gardens. A museum has a whole floor devoted to Antarctica (in NZ say "an-TAR-tick-ah," not "ant-ART-ika") with photos and exhibits of its discovery and exploration. Next we took the TranzAlpine train over Arthur's Pass and the "southern Alps" to the west side of the South Island. This trip would have been much more spectacular in the winter with lots of snow, or in the spring with many bulging streams and rivers, but in the summer it was much like driving over the Cascade mountains.
By this time in the trip we had seen at least a million sheep running away from the on-coming train. There were also thousands of deer which are farmed for consumption in NZ, Germany, and a few other countries. Also lots of dairy cows and beef on the hoof. Then we hopped on a bus for the trip down to Fox Glacier. Narrow roads, many single lane bridges, beautiful rata trees with their red blossoms, and virtually uninhabited landscape. The entire South Island has fewer than one million people. The weather was perfect when we arrived at Fox Glacier late in the day. Unfortunately, the next day it rained heavily, thwarting our plans to walk on the glacier. With its 225 inches of rain per year (that's almost 6,000 millimeters for those keeping score metrically, like they do here) I suppose it was inevitable. We saw many different birds, like the large New Zealand pigeon, paradise shell ducks, several spur wing plovers, and dozens of black swans. We couldn't stay and wait for the sun.
Our schedule was tight. In the morning we headed for Dunedin, but not before Mount Cook revealed its majestic summit. The long, 10 hour trip to Dunedin was surprisingly quite enjoyable and informative. I was dreading such a long bus ride, but the time flew by. The bus drivers (we changed busses once) provided a dialogue almost continually over a loud speaker, pointing out interesting sights and filling in the history of the area. Numerous waterfalls, narrow bridges crossing high, rocky river beds that overflow with water and rocks during frequent rain storms. Beautiful lakes, and mountains that are packed solid with broad leaf trees. After crossing Haast Pass we slowly descended into a dry but fertile valley, much like the Wenatchee/Lake Chelan area. The bus stopped at a fruit store where we bought some plums, peaches, nectarines, fresh apricots, green gages (like plums but green and a little crisper, less sweet) and some early apples. Yum. Then we passed a new hydroelectric dam that had just been completed. They haven't yet flooded the area (for many miles) behind the dam. In the late afternoon we entered Dunedin, NZ's fifth largest city at 85,000, which is noted for its Scottish traditions and architecture.

Dunedin
The next morning, Sunday, we watched a motorcycle race on the city streets and then stopped at the Dunedin Bridge Club where a large tournament was being held. About 200 people were in one room playing duplicate bridge, but it wasn't the least bit noisy. Instead of speaking the bids, they write them down on a pad in the center of the table. The bidding proceeds smoothly, and there is never a need to ask for a review of the bidding - it's all right there in front of you. All in all, it's a much better system than bidding "out loud" or using bidding boxes like they do in the highest level duplicate tournaments in the US. They allowed us to "kibitz" several hands, and we talked to the players between rounds. After lunch we joined a bus tour out to the end of the Otago Peninsula.
It was a forty minute drive on a narrow, twisty road, before we arrived at the Albatross Colony. This is the only place in the world where albatross breed within close proximity to civilization. A chick is raised by both parents until it is 7-8 months old, at which time it weighs more than 25 pounds and is 50% heavier than its parents. After several days of flapping practice, one day it noses into the wind and takes off. After 3-4 years at sea, it returns to Otago Peninsula, to find a mate and hopefully raise a chick. The albatross usually stays with the same mate for life, reuniting every other year at the hatching grounds. The oldest known albatross at Otago was more than 60 years old. Around 20-30 show up each breeding season.
Yellow-eyed Penguins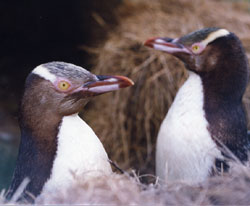 The bus tour then went to the other side of the peninsula to see several dozen large seal lions . . . old stuff for us. The real treat was seeing the rare yellow eyed penguins who were returning to their nests after a day fishing. They would ride a wave in and then start walking slowly up the beach to their nests in the sand dunes.
Next came the highlight of the tour . . . a stop at MacGruders' farm. About six penguins were being raised at the farm, hand fed by the MacGruders, until they can be released to the sea. We could actually pet some of them. They were all yellow eyed penguins except for one little blue penguin like we'd seen in the Bay of Islands, and one Magellenic penguin. The latter came from South America and must have jumped off a cruise ship in Dunedin's harbor, where it was discovered. It is now a permanent "house pet" of the MacGruders.
The next morning we spent a few hours in Dunedin's Museum before taking an afternoon train to Christchurch. The museum had an excellent exhibit of Pacific Islands native cultures from the Marquesas to Papa New Guinea. On the next day we retraced our steps up to Picton and then the ferry to Wellington. Waiting for us at our bed and breakfast in Wellington was a fax from John and Sherry Weinberg, bridge playing friends from Seattle. What a surprise! We contacted them by phone and arranged to meet in Rotorua, as they were heading south while we were heading north. We spent the next day "doing" the museums of Wellington and shopping. Then it was off to Rotorua, a touristy area known for its hot springs, geysers, thermal pools and Maori cultural center.

Rotorua
The next day we toured Rotorua with the Weinbergs. First we went to the Agrodome for a very enjoyable and informative show, primarily about sheep farming. Sherry milked a cow and Candace bottle fed some lambs, as the husbands dutifully took snapshots. The skills of the sheep dogs were very impressive. Then we went to the "Thermal Reserve" to view the bubbling mud. Wow did it smell like rotten eggs. In a specially darkened house we saw a Kiwi . . . our first in New Zealand. We had heard plenty of them at night in the Bay of Islands, but we'd never seen one. Then we went to the obligatory native Maori dancing and singing show, which was a bit more professional and interesting than any other we'd seen in the Pacific. Some more botanical garden/museum strolling before dinner and then we even had time for several hands of bridge before turning in for the day.
The Weinbergs headed south the next morning while we headed toward Auckland, via the Waitamo Caves for glow worm watching (not worth the time) and an aviary. Two tired travelers pulled into the Auckland bus terminal that evening. We'd traveled about 4,000 miles in 13 days. Counting lodging, transportation, meals, snacks, tickets and museum donations we spent a total of $1,200US. Quite economical. We'd seen as much of the country as anyone can in a quick two week tour, met many people on the trains, buses, B & B's, and learned much about N.Z.'s history and heritage. For others contemplating a quick tour of NZ, we wouldn't hesitate to recommend the Intercity TravelPass - bed & breakfast approach rather than renting a car or choosing a prepackaged tour.

Back to Work
Arriving back at the boat, which was still on the hard, we had to apply one more coat of bottom paint before she could go back in the water. The few minor blisters had been repaired and Baba BarAnn was back in top shape, above and below the waterline. Our primary anchor was regalvanized, (the chain didn't need to be), the windlass was serviced and repainted, some minor repairs were completed on the staysail. We even sanded and put two new coats of varnish on all the inside floors. Of course filters and oil were changed on the diesel engine. Some of the lines were replaced, rigging checked, etc. We were "chompin' on the bit" to get moving. But the hurricane season still had a month to run. So we left for a short shakedown cruise to some of the islands in the Auckland area.

Kawau Island
Just 15 miles north of Whangaparaoa is Auckland's most popular cruising destination, Kawau Island. With a strong westerly wind we quickly sailed there. Even before setting our anchor, a motor boat sped out to meet us. "Have you filled in the census forms?" That was the night that New Zealanders stand up and are counted. Even though we were tourists, we got counted along with all the Kiwi's. The next day we met the first of many Seattleites. Approximately 50 members of the Seattle Yacht Club were visiting NZ as part of a reciprocal exchange with the Royal Akarana Yacht Club of Kawau Island. We were invited to the big BBQ, social event and were treated almost like celebrities. They seemed impressed that we had sailed from Seattle, rather than flown like they had. They took pictures of us and treated us royally. The adulation seemed a bit unnatural, but still nice.
Then we sailed to Great Barrier Island, 30 miles to the East. It was a bit scary, dodging reefs and charted rocks just below the surface. But the anchorages were nice. We took long "nature" walks, and enjoyed some great weather. I even went swimming. At 62-65 degrees it was a bit chilly, but someone had to cut away my fishing line that I had cleverly wrapped around the prop! After getting my heart beating again, it wasn't toooo bad. We both enjoyed Great Barrier Island and Kawau Island. It was nice to be rocking at the end of an anchor line, rather than tied up to a marina wharf. At that point the outboard motor for the dinghy had quit for the millionth time. Cleaning the carburetor would keep it going for only a few minutes. It was time to head back to "civilization." Upon returning to Gulf Harbour Marina, I sent a fax to West Marine Products. Within 36 hours I received a return message that they were sending me a new carburetor. Let's hope they come through.

Show Me the Way to Go Home
After spending the hurricane season in New Zealand, all North American cruisers are faced with the same dilemma . . . where next. Those from Europe have already committed themselves to a circumnavigation, so they don't have a choice. For others the choices are: continue around the world, spend another year in the South Pacific and delay the decision, or head back to the west coast. Instead of sailing downwind from east to west, it was now time to head back the wrong way, against the wind and waves. It was time to pay the piper for the relatively easy sailing we had coming across the Pacific Ocean. Since leaving Mexico, Baba BarAnn had tacked, in the open ocean, only a handful of times. We were experts in jibing, but tacking through head winds and large waves was a skill we had rarely employed for the last year and one-half. The question then became, what's the best route back to our home port of Seattle. There are tomes written about the "milk run" from east to west. What about from west to east?
Northwest Via Japan?
Because of the north Pacific high pressure system, it is impossible to arrive on the west coast directly via the south. Thus the first decision concerning our route back to the west coast was whether or not to stop in Hawaii. We toyed, quite briefly, with the idea of sailing to Japan, and then making the long loop back across the north Pacific, close to the Aleutian chain of islands in Alaska. This was rejected primarily because of the long, typhoon riddled passage necessary to get to Japan. Prudent passage planning to the orient would require leaving NZ in March and then going almost non-stop, 6,000 miles to Japan. The last leg back to Seattle, 4,200 miles, would then have to commence by August at the latest. While a trip to Japan would be a nice juicy carrot, it was too far away, and we wouldn't have enough time to savor it. Scratch that.
Northwest Via Marshall Islands
Our good friends, Chuck and Bev on Carina, chose to visit Tuvalu, Kiribati, and the Marshall Islands before making a long, 4,000 mile, clock-wise loop directly back to their home port of Seward, Alaska. This decision allows them to see several places which are off the beaten path. It also allows Chuck to return to places he'd been to during an earlier Army tour. One disadvantage of this path is the long last leg, which would be even longer to Seattle. Partially because one of our goals was to avoid the really long passages, we didn't choose this route.
Northwest Via Hawaii
Like 95% of the sailors heading back to the west coast from the South Pacific, we decided to make the trip via the Hawaiian Islands. Arrival in early June, with departure in early August, would enable us to see most of Hawaii during a six to eight week visit, and set up the reasonable, 2,400 mile passage back to Seattle during optimum weather. The earlier we arrive in June, the lower our probability of encountering the nasty after-effects of hurricanes and tropical storms emanating from Mexico, and the longer we get to stay in Hawaii. With that decided, the question then becomes, how do we get to Hawaii by June?
Hawaii via Tahiti
The "traditional" route from New Zealand to Hawaii is via Tahiti. This approach gets all the necessary "easting" completed by Papeete, and sets up a relatively easy beam reach straight to Hawaii, with favorable winds all the way. For us, the disadvantages of this approach were: 1. The long, passage to Papeete. While the rhomb line is 2,300 miles, the necessary counter-clockwise loop adds an additional 200 or more miles, making this a 22-24 day passage. 2. We had already spent two and one-half months in the Society Islands last year and wanted new scenery. 3. We didn't want to hassle with the $850 per person bond which needs to be posted and then collected by sailors visiting French Polynesia.
Hawaii via Samoa
Most sailors heading from New Zealand to Hawaii go via Samoa. The advantage of this approach is the chance for another "pass" at Fiji and Tonga, en route to Pago Pago and/or Apia. From Samoa, the path then leads to Fanning Island in Kiribati and then to Hawaii. The advantages of this approach are the short passages and variety of anchorages. We did not elect this route because: 1. We wanted to avoid beating into the wind as much as possible. The passage from Fanning to Hawaii is reported to be difficult. We'd seen the large seas behind us when we were leaving Bora Bora, and we wanted to avoid them on the way back. 2. The allure of visiting new anchorages was greater than revisiting old ones. Not being scuba divers, we can't enjoy one of the major attractions of Fiji and Tonga. While we had stopped at three Cook Islands: Suvorov, Nassau, and Puka Puka, we had only spent one night at anchor due to our taro delivery mission. This had whetted our appetite to see more of the Cooks. 3. We wanted to minimize time spent sailing in the reef-strewn areas of the Pacific. A close encounter with Mbengga Reef, south of Suva, convinced us of the dangers inherent in Fiji and other places with numerous coral reefs.
Hawaii via Penrhyn
Although not unique, our route back to Hawaii via Rarotonga and Penrhyn is rarely chosen. The advantages of this approach are: 1. This passage to Rarotonga is projected to have fewer head winds and is much shorter than the trip to Papeete. The "traditional" NZ-Papeete leg is 50% longer than the 1,750 mile trip to "Raro." 2. The route to Hawaii allows a convenient stopover in Penrhyn. This breaks up a very long passage into two shorter legs, and provides the opportunity to visit the lovely, large lagoon of Penrhyn. 3. A few weeks in both Raro and Penrhyn will hopefully slake our thirst to visit the Cook Islands. During the taro delivery, we talked to a few people on the radio that we were now looking forward to meeting personally. Raro will be our first landfall where we will have acquaintances waiting to see us. The supposed disadvantage of this approach is the greater propensity for head winds on the leg from Penrhyn to Hawaii. This would certainly be true if we were to stop at Christmas or Fanning Islands, en route to Hawaii, but we don't plan to give up our easting. The Penrhyn-Hawaii leg, at 1900 miles, is 400 miles shorter than the Papeete-Hawaii leg. The overall distance from New Zealand to Hawaii is 4,400 miles via Raro and 4,750 via Papeete.

Final Preparations
Our 5 month stopover in New Zealand is rapidly coming to an end. We're rested and Baba BarAnn is in great shape. Next on the agenda is a 1,700 mile passage to Rarotonga in the Cook Islands. It may be a very rough trip as we'll be heading Northeast, often against the wind and waves. I anticipate fairly strong winds, and hope to make the trip in 13 or 14 days, but of course it's hard to predict. Just a year ago today we had crossed the equator, in route to the Marquesas. Our sailing skills have improved substantially since then.
Rainier & Heidi from Rolling Home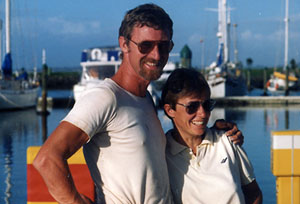 Last weekend the marina put on a big BBQ as a going away party for all the international yachts here. They had lots of free beer, four sheep turning on the spit, plus dozens of "snarlers" - the standard Kiwi fare for such an event. Snarlers in NZ are the same as "snags" in Australia, "bangers" in GB, and sausage to us. Someone who knows how to make a good sausage could make a fortune here. After eating lamb every week since coming here, I think I'm just about "lambed out." The BBQ was a nice touch by the marina, and it was good to have a farewell party. Farewell to the many people we'd met at Gulf Harbour, and more importantly, farewell to the many, many cruising friends we'd met and sailed with for the last year or two
About one-third were continuing their circumnavigation, another third were returning to Tonga-Fiji for another year and the remainder had other plans. It was something like graduation, knowing your lives were now heading in different directions, and you'd probably never again see some close friends.With just a few days left before our passage to Raro, I'm realizing how much I'll miss all the friends we've made in the last year. The BBQ brought it home that we'll be saying "bon voyage" to many people who will be heading out in opposite directions. Some of them we met in Mexico, some in French Polynesia, but they've all been close friends for a year or more. There are approximately 60 "international" yachts here at Gulf Harbour Marina. A little more than 50% are from the USA, with Germany, Canada, England - in that order - making up most of the rest.

Leaving New Zealand
Provisioning for our trip was a challenge because there would be very limited supplies in Raro, and none in Penrhyn. Candace bought a huge box of Spartan apples, 175 of them, for $30NZ. That works out to ten cents, U.S., per apple. Also large boxes of tomatoes and onions. We'll eat more than the required "apple a day." When the tomatoes start to ripen, she'll make salsa and great gazpacho. We won't have any lamb on board. Selling our car turned out to be quite easy. Another cruiser who was staying in New Zealand for two more months decided to buy it. For the 3.5 months we had the car, it cost $340 US, plus gas and a new windshield. Not too bad. We never had a problem with the car.
Next stop . . . Rarotonga!