Chapter 12 - Moorea to Bora Bora and Huahine
Moorea
After returning from the Gauguin museum, we filled up with diesel and water, and motored over to Moorea, three hours away. In front of the Bali Hai Hotel, we spent two nights at an anchorage which we had all to ourselves. Mike and Karla from Amazing Grace (another Tashiba/Baba 40) dinghied over from Cooks Bay and spent the morning with us. We hadn't seen them since Nuka Hiva, although we'd talked with them frequently on the radio. Of course we proudly showed off the new cotton seat covers.
Then we headed over to Cooks Bay to share an anchorage in front of the Bali Hai Club with about twenty five other yachts. The Club is very friendly to cruisers. Besides the free anchorage in one of the most beautiful settings in the world, they offered free use of the dinghy dock, the pool, TV lounge, and other Club facilities. Alex and I saw most of the Italy-Argentina World Cup soccer match there. We went to a nice Chinese restaurant on my 48th birthday. The next day we enjoyed socializing with many other cruisers at the Fourth of July BBQ put on by the Club for the Americans, Moorea was the best anchorage we'd been to since leaving Seattle. After a few more days in beautiful Moorea, we headed directly to Bora Bora. Alex only had one more week to stay with us, and Bora Bora was a "must."

Bora Bora
Under the usual sunny skies, with winds about 12-15 knots, we headed off for "the most beautiful island in the world," only 140 miles to the West. After four hours the wind died, and on went the motor. For 20 hours straight, we motored, certainly the longest we'd run the motor since December when we were heading into Cabo San Lucas. With all ten of the free mooring buoys taken, we anchored in 85 feet in front of the Hotel Oa Oa just north of Vaitape.
We were thankful for our 350 feet of chain anchor rode, as this was about the deepest anchorage we had been in so far. Once we arrived, the wind picked up, just like it did at Fatu Hiva. First it would be calm, then the wind would scream down the mountain, gusting to 25 knots. Meanwhile, the boat swung rapidly around the anchor, moving with the current during the lulls, moving with the wind during the gusts, just like the La Pas waltz.
The Bora Bora "gun sight" - entering the pass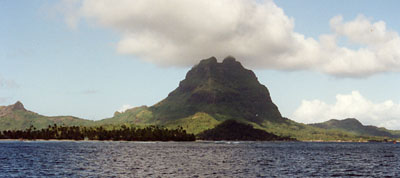 Similar to the Bali Hai Club in Moorea, the Hotel Oa Oa welcomes cruisers with open arms. Of course they hope you'll open your pocket book and use the restaurant or bar. They have free moorings, a dinghy dock, trash disposal, water, beach facilities, and they let you run up a tab at the bar/restaurant.
Eelyos, from Mercer Island is just a few boats away from us. On shore the natives practice singing and drum beating for the Fete (Bastille Day) competitions. That's kind of neat. Unfortunately, a new disco opened about a mile upwind of us. Our first night in Bora Bora was opening night for the Fete and for the disco. Now, every night until 3 AM the music blares, an eclectic collection of Polynesian, French, Spanish and American music, mixed in with a few oldies and rap. I heard two great Little Richard songs, "blasts from the past, moldy oldies from the wax museum!" "Rip it Up" and "Long Tall Sally." Another song they played a few times was the same song I'd heard in Mazatlan during the wee small hours when the hearty partiers were celebrating Mardi Gras. Many times it's kept me awake, and I like its mystical feeling. I'm so out of touch with current music that I didn't even know it was "Lombada" until today.
Our three month visa in French Polynesia was about to expire, and the extension we applied for was supposed to be waiting for us, general delivery, at the post office. Sure enough, a letter for Monsieur Richardson on Baba BarAnn was waiting for us. Checking in with the gendarme was the usual, efficient process, once the gendarme showed up at work. The Fete activities revolve around the piroque races, with events for 1, 3, 6, and 12 man or woman crews, and around the traditional dancing/singing events. We saw the finish of the piroque races from our boat. We bought great seats for opening night of the dancing event. There were three different groups from different parts of Bora Bora. Each group had about 60-70 members, both sexes, with ages ranging from 10 to 70. Some of the "big mamas" weighed over 250 pounds and could really belt it out. Each group's presentation lasted almost an hour. Close harmony, rhythmic drum, guitar, and ukuleles accompanied native dancing . . . hip shaking by the women and leg flapping by the men. The third group, which we dubbed the "home team" since we heard them practicing on shore ever since arriving in Bora Bora, had elaborate costumes, with skimpy loin clothes for the men and grass skirt/coconut shell bras for the women. Both sexes wore head dresses more than three feet in diameter. I took lots of pictures but have doubts that the long distance flash worked.

Bora Bora Yacht Club
After three sleepless nights in front of the Oa Oa Hotel, due to the upwind disco, we decided to move to quieter pastures. Five more boats had arrived, for Fete activities, and had anchored in front of us. A German boat, Marius I, anchored very close, making it difficult to sleep while worrying about a collision. Sure enough, at 5:40 AM we bumped. No real damage, just a little varnish off the cap rail, but it wasn't comfortable. He apologized, and moved further away at daybreak, but we weren't sticking around. We moved over to the Bora Bora Yacht Club, about one mile north at Faanui, and were lucky to find a vacant mooring buoy.
The change in atmosphere was quite noticeable, with no disco noise, and a secure, roomy anchorage. Again, the buoy was free, and the BBYC even had a "water buoy" which made it extremely easy to fill the water tank. Just pull up to the buoy, lift the hose, and ask the BBYC to turn the water on. The owner, Guy, spoke English with a thick French accent, and was very friendly. His only request was that we make an entry in his log book. We were a bit intimidated by the exquisite artwork already left by cruisers on their way through Bora Bora. Our entry was a computer produced StarChart of the sky at the BBYC's latitude and longitude, at 8 PM on Bastille Day. We colored it a bit and left some kind words. It was a different and unique entry in the log, and I was proud of it. I had developed the program since leaving Mexico, primarily to learn a new programming language, Pascal, but also to help me recognize the new stars and constellations in the southern sky.

Alex Leaves on a Tramp Steamer to Papeete
Alex had to return to Papeete to catch a plane leaving for Seattle at 1 AM on Saturday morning. We'd planned on his taking the cargo boat that left Bora Bora on Thursday, arriving in Papeete on Friday. Getting good information on the boat's schedule was impossible. Between lots of partially true, and partially false information, all in French, we think we got the straight story. The cargo boat that Alex left on had no seats, and he had to sleep outside, on the deck. There were about 25 fellow passengers, a few who could speak English. He was part way through the third book of the Lord of the Rings, and he had his tapes and walkman, so I knew he wouldn't be bored. I wonder how he'll feel when he arrives at Mercer Island shortly after noon on Saturday, 48 hours after leaving Bora Bora?

Magazine Articles
There are at least 35 boats from the Pacific Northwest, (Oregon, Washington, British Columbia, and Alaska) that I know who are cruising in French Polynesia this year. I've decided to try and assemble a story [pictures of 20 boats from the PNW] for 48 North, by including a photograph and letter from as many of these boats as possible. If it turns out as I hope, the article will appear this winter in the Seattle magazine. Last fall, I sent a letter to Latitude 38 in San Francisco and they published it. It was about our getting stuck in the Delta mud and getting the anchor stuck in our prop. In December I sent a story to Burgee, a southern California magazine that pays $50 for their monthly article entitled "I Learned about Boating from This . . . " Every time we picked up our mail I would ask Candace, "Is my fifty bucks from Burgee in there?" When we picked up our mail in Bora Bora, it was in there. The Burgee story says I learned not to pick up a buoy if I don't know what's at the end of the mooring line. So here we are at BBYC, swinging at the end of a free buoy for the first time since leaving Seattle, and not knowing what's at the other end, 90 feet down.

Wind Generator Crashes
One morning the wind started gusting mightily, perhaps up to 40 knots. Then the wind generator, spinning furiously, came crashing down, smashing the blades on the stern pulpit, twisting the stainless steel legs, and breaking the cup which held the main pole. It was a dramatic final chapter to the love/hate relationship I've had since the beginning with the Four Winds II wind generator. It was expensive, ugly, extremely difficult and time consuming to install, and quite noisy. When the wind blew, it provided a fair amount of electricity. Now all that was history. It was beyond repair without access to machine shops and hard to find parts. Most importantly, I'd had it with the monster! The extra noise wasn't worth the extra electricity. Surveying the wreckage, the wind brake failed when some cheap pop rivets corroded. The centrifugal force wind brake is supposed to keep the blades spinning no faster than a 25 knot clip. The extra force applied by the rapidly spinning blades during the gust caused extra backwards pressure, breaking the cup at the bottom of the main pole.
When the bottom cup broke, the entire wind mill twisted over backwards. Luckily, no one got hurt, and it didn't harm the Monitor wind vane. I used this "opportunity" to rewire the solar panels so they'd be more efficient, and carefully monitored the engine running time necessary to keep our batteries topped off. While at anchor, we now have to run the engine 45 minutes a day. Under sail, since we light the masthead tricolor light at night and use the ham radio more, we'll have to run the engine a bit more. For the time being, we appreciate the quiet atmosphere and the uncluttered cockpit. I hope we don't miss the extra amps.

Huahine
Discussions we'd had with the cruisers in Bora Bora all corroborated that Huahine was a "must" while Raiatea could be skipped. Chuck and Bev had just arrived there from Moorea, so we decided to sail back east. With some good, blustery winds from the north, we had a great beam reach, and made the 50 mile trip in just eight hours. Our first two days there were spent, hunkered down, weathering the rest of the storm that provided us the nice sail. We spent a few days walking around Fare, the little village on the west coast of Huahine, and really enjoyed the place. It was quite noticeable that the people were friendlier than on the other islands. We're convinced that this is because Huahine has not been sullied by tourism. We spent some time with an interesting couple, Gil(66) and Lynn(50) on Tiare. They lent us some VCR movies that we enjoyed on two nights, and we played bridge one afternoon . . . Candace's first ever game of bridge (not counting hands played against the computer!) It was lots of fun, and no arguments.
Gil was divorced many years ago from a French/Tahitian. But he's still "one of the family" to the Polynesians, and has been to non-stop parties and gatherings with them, mainly on Huahine. His ex-wife and ex-in-laws (outlaws?), are in the middle of a gigantic law suit worth 500 million US dollars. It revolves around a mysterious death, and bogus will, which cut the family out of all their property. The family had owned most of Huahine, the entire island, as well as the most valuable block in Papeete. They've already received several million dollars in settlements so far. Apparently, under French law, the government can be sued for authorizing the sale of property that wasn't rightfully owned. So the pockets are deep here, and the French are eager to stay on the friendly side of the Tahitians. Gil doesn't stand to gain anything, but his two sons do . . . one of whom has just taken over his manufacturing business in California.
Lynn's situation is also different. She's still married to an attorney back in Sacramento. Her family thinks she's crazy, running off to sea with another man. I wonder if she will return to her husband when her adventure is over?
Tropical Flowers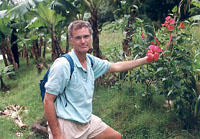 Next we went to the southern anchorage at Huahine, called Avea Bay. It was quite pleasant, anchoring in 30 feet of turquoise water, with wooded hills descending to a crescent (croissant?) shaped, white sand beach on one side, and the barrier reef blocking all the waves on the other. You must be bored, reading about these beautiful anchorages, but some are more noteworthy than others. This was a "ten."
Unfortunately, we couldn't stay there too long. We were experiencing a subtle change in the seasons, and had to be moving on. Instead of having showers once a month, they were now weekly events. About once a week it's cloudy and windy, as one low after another passes south of us. It was time to leave French Polynesia, and head west, back to Bora Bora to do some final preparations for the 1,100 mile trip to American Samoa. Please excuse my change of pace, tense and style. The following captures some of my feelings on how we got into cruising.

Northwest Cruisers in Paradise
"Why are there so many?", Candace asked. I took another sip and scanned over the anchorage, happy in knowing that we had provisioned well in Mexico and weren't affected by the exorbitant prices for beverages in French Polynesia. It was our favorite time of day, sunset, when it was cooler and calmer, a time for relaxation and reflection. Splash! About 100 small flying fish, perhaps four inches long, all leapt out of the water at the same time, fleeing in every direction.
It reminded me of the fire boats on Elliott Bay when they spew water in every direction. Soon we saw a large fish thrashing about, trying to wolf down the one flying fish that he had culled out. Why do the flying fish swim in large schools? Wouldn't it be safer to be a loner? Anchored at Bora Bora for the last three weeks, we couldn't help but notice that a high percentage of the sailboats in Polynesia is from the Pacific Northwest, perhaps 30% of all the boats. Maybe 3% each from Oregon and Alaska, 9% from British Columbia, and 15% from Washington.
Why so many? It's my guess that 30% come from California; 30% from the east coast, Germany, France, and New Zealand; with the remaining 10% scattered among Australia, Japan, and the rest of Europe. It's logical that the west cost, being closer, has higher representation than the east coast or Europe. But California, with two and one-half times the population of the PNW, and at least 1,000 miles closer, has no more sailors out here. Per capita, the Pacific Northwest has 2.5 times as many sailors here in "paradise" as California.
Did the Californians head the other way, through the canal? Are the east coast boats content with the Caribbean, the rest of the Atlantic, and the Med? Each boat probably has a different reason for stepping out of the fast lane for a few years and going cruising, but the question still begs for an answer. Before offering my opinion, I surveyed the horizon once more. The Sun was just about to slip out of sight. Flash! The "GREEN FLASH!" It really exists! For the last second before the Sun was completely covered up by the Pacific it turned a bright, almost fluorescent, bright green. Until then, the only green flashes I'd seen were on the channel markers. (Unlike the USA, it's "Green-right-returning" here and for most of the world, or easier to remember "Red-Right-Wrong")
Why hadn't I seen it before. Was it because the waves breaking on the fringing reef were just high enough to eclipse the last second of the sunset? Well, I think the Pacific Northwest has the best cruising area in North America. It's easy to get started. Remember our first overnighter, on a San Juan 23 in Lake Washington? Pretty exciting. We even circumnavigated Mercer Island a few times. Then through the big, scary locks for the first time, and a night at Blake Island. That was really big time, and great fun. Then we met more and more cruisers, and added more and more destinations in our cruising log. Gig Harbor, Eagle Harbor, Poulsbo (I must be one of the few fans of lutefish eating contests) and even up to Port Ludlow. Soon we were planning our summer vacations around two weeks or more in the San Juan Islands.
Next it was Desolation Sound. By then we were hooked completely, and had bought Baba BarAnn. That month's vacation, circumnavigating Vancouver Island, dispelled any lingering doubts. One month cruises and harbor hopping just wouldn't cut it anymore. So we got into cruising gradually, one step at a time. The Pacific Northwest probably offers the best training grounds in the USA. Cruising destinations out of San Francisco are quite limited, and once under the Golden Gate Bridge, it's major league Pacific Ocean sailing. No easy learning curve there. L.A., no way. If you can afford moorage and get a boat in the first place, your only destination might be Catalina Island, where you're herded onto tightly spaced mooring buoys. At least you can see herds of buffalo on the shore so you won't feel out of place in your own fiberglass herd. San Diego, forget it. One of the few places to cruise would be Mexico. With all its red tape and bureaucracy, it's not really a weekend destination.
So that's my opinion. Why do you think there are so many Northwest sailors out here?