Chapter 10 - The Marquesas and Tuamotus
Hiva Oa
Cabbage, $7.80 or $9.00!!
Contrasting with the tougher than anticipated passage is the greater than anticipated beauty of Les Iles Marquesas. Verdant mountains, 3000 feet high, tumble into the Pacific. Flowers grow everywhere. The natives are beautiful, smiling and friendly. The biggest surprise is the obvious wealth everywhere. Along the few miles of roads, the only vehicles to be seen are brand new Japanese trucks and jeeps. The houses are very nice.
It seems that people only work a few hours in the morning. Converting from the French Pacific franc (CFP) to dollars is extremely easy. One franc equals one penny. However, prices in the few stores are extremely high. The worst case I remember was asking the price of some nice looking plums . . . $10.00 per kilo; that's $4.54 per pound! Some cheap looking aluminum/Teflon frying pans were $60.25. A head of cabbage was a mere $7.80, if you got the small one.
At a small store selling home grown fruit and vegetables, we bought some pamplemousse. It's FANTASTIC, just like very large grapefruit, but not quite as tart. We bought a chicken (from the USA, about $1.75 per pound) and a nice frozen leg of lamb from New Zealand for $3.72 per pound. There's a bakery that only makes long, thin loaves of French bread (baguettes). It's about a 45 minute walk to town, but usually you can get a ride by sticking out your thumb. If a truck passes you without stopping, they always give a hand motion that they're turning off the road shortly, or don't have room.
The French military has a large presence here, but even they pick you up. Usually you end up riding in the back of a truck, but it sure beats walking in the midday sun. Besides talking with shopkeepers, thumbing is another good way to practice our French. I remember quite a bit from the French I took in high school and college. For many of the natives, French is their second language, so we both have fun using our poor French.
We went to the Catholic church on Saturday night before Easter. The priest spoke both French and Tahitian. The highlight was the beautiful, close harmony singing by all the parish. While the service went on for about three hours, we left after one hour. Then, with four other couples, we went to the only Marquesan restaurant in the village. We both had one-half a lobster, salad, loads of poisson cru (raw fish marinated in coconut milk), roast pork, rice, all the wine you could drink, and a banana/plantain custard pastry for desert. All for $22 per person, tipping not allowed. It's just as well we didn't get a ride on the way back that night; we needed the exercise to work off the gigantic meal. Next it's off to explore the rest of the Marquesas and French Polynesia.

Tahuata
One week was all we could take of the crowded, rolly anchorage at Atuona. We got a few fresh vegetables and headed to Tahuata, the 8 mile long island southwest of Hiva Oa. Charlie's Charts of Polynesia really blew it on this one. He said that there were no good anchorages on Tahuata. We'd heard some good reports about Hana-moe-noa on the northwest corner of Tahuata, and wanted to see for ourselves. (I just saw a "New and Revised" edition of Charlie's Charts which describes the viability of the Tahuata anchorages).
The crystal clear, turquoise waters, and white sandy beach couldn't be ignored for long, as we rushed to get the anchor down and our bodies wet. Hana-moe-noa was every bit as beautiful as we were led to believe. In the late afternoon, herds of goats would roam the mountains that dropped right into the bay; their bleating was the only sound to be heard. We shared this anchorage with 6 or 7 seven other cruising boats plus the local inhabitants.
Aka and Emile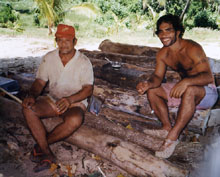 The locals consisted of three men, Aka, a 30 year old, muscular Marquesan, Emile, in his forties, and a short, speechless man in his sixties. There were also four dogs, one captured goat, soon to be eaten, and one captured pig with a similar fate. Over the next few days we talked with Aka several times. Along with goat and pig, Aka eats the fruit and vegetables he grows, and the fish he spears in "his" bay. He splits coconuts and dries the meat for the monthly visit of the copra boat from which he receives about 60 cents per kilo. Using an outboard motor on the outrigger canoe which he built, he makes daily trips to the bay two miles south in order to bring back fresh water. He gave us a large stalk of bananas, dozens of limes from his trees, a coconut, and several pamplemousse. We gave him a cold drink, some cake, and a Hall and Oates cassette.
One day WE went spear fishing. He walked the shore stalking fish and spearing them. Then I'd row over in the dinghy, take pictures, and pick up the fish. Great teamwork. Afterwards, he filleted three fish for us, two beautiful parrot fish and a tatuah (Marquesan word) which had two brilliant orange spots on an otherwise jet black body. We were a little leery about eating them because of the possibility of getting ciguatera, a disease which affects coral reef fish. We had the courage to eat them based on Aka's knowledge of the fish and the poison problem. Furthermore, the fish were small (14 inches long for the largest one) and we did not eat the heads where ciguatera accumulates.
The next two nights we had tasty BBQed fish, and no ill side effects. An honest account of Hana-moe-noa would have to mention its only problem, the hoards of black "house" flies that were everywhere between sunrise and sunset. The screens Candace made in Mexico worked perfectly. Nevertheless, the flies were a hassle. Having to stay inside during the heat of day, or duke it out with the flies, got tiresome after a few days. One week later, we said good bye to Aka and his lovely bay, and headed to Fatu Hiva.

Fatu Hiva
Approaching Fatu Hiva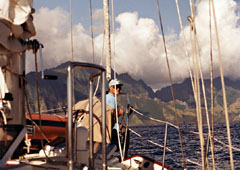 One of the most spectacular anchorages in the Marquesan Islands has to be Hana Vave on Fatu Hiva, the southernmost island. Unfortunately, the winds blow mightily down the mountain passes and into the bay. All day and night the wind gusts to 20+ knots, and then drops back to 3 knots. First the windmill screams, then becomes quiet. The holding ground is just as fickle as the wind. Because of the crowded condition, sharing this bay with nine other cruisers, we had to anchor way out in 80 feet of water, at the end of our 350 foot long all chain anchor rode. We had read about boats being swept out to sea from Fatu Hiva, and now we understood how.
During our second and last day at this uncomfortable spot, we watched in helpless horror as a boat started to drag anchor and head out to sea. We quickly rang the alarm on the VHF radio and the owners were summoned from shore to rescue their boat. No thanks! This isn't the place for us. So back we headed, this time to the north shore of Hiva Oa.

North to Nuka Hiva
Our next "batch" of mail left MCCA in Colorado on April 16 and was expected in Nuka Hiva by May 1. Not to be late for this important rendezvous, we headed north. The first day out of Fatu Hiva was a hard beat, with 25 knot winds about 50 degrees off the bow. Our stomachs were reminded that we hadn't had any hard sailing in over two weeks. Candace was seasick and I didn't have much energy. With ten foot swells hitting our starboard flank, and winds off the starboard bow, it was a rough trip. Candace joined me in the cockpit, and questioned me about the high pitch squeak she had just started hearing. The squeaks that I know about on the boat last for less than a second. This squeak lasted for about four seconds.
Then, just south of Hiva Oa, bam! Bam bam bam! What was that? Sure enough the depth sounder confirmed what our eyes knew, that we were in deep water . . . more than 600 feet. Once again, bam! Each time, under the aft part of boat. Then we saw him. It was a tiny whale (another oxymoron?) only 9 feet long. He circled around, fifty feet behind Baba BarAnn came surfing down the ten foot waves, with his head out of the water, and charged again. This time he pulled up short and swam right next to the boat for about thirty seconds. After another less energetic charge, he lost interest and left us.
I joked that Baba BarAnn had lost her virginity. Upon reflection, we believe he was a baby whale looking for his mother, and obviously was confused. We're ecstatic that mom didn't come to the rescue. Those squeaks must have been the whale's cries. The unfavorable northeasterly winds had slowed our progress, and forced us to duck into Puamua Bay for the night. It was quite rolly and we were glad to leave the next morning. Now the northeast wind was our friend, as we sailed westward along the north shore of Hiva Oa. I caught a skipjack tuna that was good for two more dinners on the BBQ. At 4 PM that afternoon, we pulled into Hanamenu. At the entrance, my heart stopped as I thought I saw two uncharted rocks just below the surface. then I noticed that they were two large manta rays. With the wind whistling at a steady 23 knots, we set the anchor under trying conditions. This was our third rolly anchorage in as many days. By 3 AM the next morning we were off to Oa Pou, a small island sixty miles south of Nuka Hiva.

Oa Pou
Beautiful Oa Pou
I take back what I said about Fatu Hiva . . . Oa Pou is the most spectacular Island in the Marquesas. On this little island that stretches only 8 miles at its widest part, there are several large rock spires that extend upward to more than 4,000 feet. We bypassed the nice looking anchorage on the northeast corner of the island, since it wasn't discussed in Charlie's Charts, and went around to Hakahetau on the northwest corner. As we motored in, we saw only two boats, including Orca. We hadn't seen Martino and Karin on Orca since late January, and had spoken with them only a few times via ham radio during the passage from Mexico.
Over pasta and a jug of wine, we had a very enjoyable dinner hearing about their journey to the Marquesas. Martino, very attractive, is an Italian, born in France, educated at Harvard, enriched by silicon valley, and then burned out by his 26th birthday. Karin, long, blond and lithe, is from Sweden, and came to San Francisco to be a live-in "nanny" for a year before she turned 21. They were extremely friendly and interesting, and we hit it off immediately. The next day, Martino donned his scuba tank and cleaned off all the barnacles from Baba BarAnn's bottom.

Nuka Hiva
As much as we enjoyed Orca, we didn't like the rolly anchorage on Oa Pou. Besides we were eager to pick up our mail, so off to Nuka Hiva. [nice picture] After a beautiful four hour sail, we were escorted into Baie de Taiohae on Nuka Hiva by a pod of porpoises. We've seen porpoises on numerous occasions, but never before had we seen little baby ones, perhaps 20 inches long. They were being taught how to surf a sailboat's wake by their parents. Pretty special!
Above Nuka Hiva

We anchored next to Carina, and put out a stern anchor to keep our bow pointed into whatever swell made it into the bay. Then we went to Rose's Cantina, the small hotel/restaurant owned by Rose and Frank Corser, to pick up our mail. The first four of seven packages sent by MCCA were there. Where are the other three? Anyway it was great catching up with the mail, even though the four packages cost $120 to mail from Colorado.
We checked in with the gendarmes, got some francs at the bank, and tried to pick up some fresh produce at the few stores in town. There were hardly any fresh vegetables or fruit, and everything was quite expensive. Although there were a couple more stores than in Atuona, the selection was skimpier. The one butcher in town, Michel, was a short, very expressive Frenchman, perhaps fifty years old. I took an immediate liking to him, and enjoyed struggling with my limited French to communicate. He spoke zero English. In Nuka Hiva we filled our diesel tank. This was more difficult than you can imagine. First I rowed to shore, (15 minutes), cleaned off my feet and put on sneakers, and walked two miles to Maurice's, the only store that sells it. Maurice wouldn't be back until late in the afternoon. So back to the boat and then, several hours later, repeat the whole process. This time I was told that diesel wouldn't be available until the morning!
Next morning, Chuck and I rowed to shore with our empty jerry jugs, and walked back to the store. We purchased two 55 gallon drums at $104 a piece. A Marquesan then siphoned the fuel into our jugs . . . by sucking on a tube until the diesel was in his mouth, and then putting the tube in our jugs. Gasoline is served up the same way at Maurice's, and it cost $1.10 per liter, or about $4.40 per gallon. We got a ride with our jugs back to the beach. It took two trips via dinghy to ferry the fuel out to our boats. Then we had to filter the fuel into the tanks. Unfortunately, the "Baja" fuel filter got plugged several times with rust and other dirt. We're most apprehensive about problems we'll have if we didn't get all of the impurities.
Tiki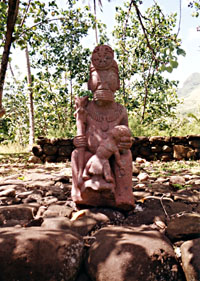 While fruitlessly looking for some fresh produce in the local stores, Candace met a small, attractive French woman named Gisele. She taught English, while her husband, Pierre, taught history/geography at the local school. With their two daughters, they moved from eastern France to Nuka Hiva just a year ago. They have a three year teaching contract. We enjoyed meeting this couple on four different occasions, and always had fun "teaching" English . . . or, more precisely, American, as well as learning French. I practiced lots of French with Pierre who was capable, but shy, with his English.
The highlight was an all day trip in their jeep, over the mountain to the north side of the island. No regular car could have made this trip, on the narrow, bumpy path that served as a road. We took pictures, exchanged addresses, and have tentative plans to see them again in Papeete around the first of July.
Ratlines
A ladder used for climbing shrouds is called a "Ratline." Since we were going to the Tuamotus, we needed "ratlines" to provide an elevated view for spotting coral heads. Until now, I had successfully kept that project on the back burner. We could wait no longer. I had considered mast steps, but dismissed them on several counts. They 1) are dangerous and extremely difficult to hold on to when the boat rocks even a little, 2) add to windage, 3) snag lines, 4) weaken the mast, due to the numerous holes that must be drilled, and 5) are expensive at $18-$22 per step. I purchased 70 feet of cheap, 2" by 1/2" lumber from Maurice's store, polypropylene line, and some nuts and bolts. Two lengths of line, following two different shrouds, were knotted every 14 inches and then tied to the port spreader, Each step was then made with two boards that had been cut and drilled appropriately to sandwich two shrouds, and the lines. After each step was bolted together, the nuts were covered with Styrofoam packing nuggets ("ghost turds") and protected by duct tape.
Ratlines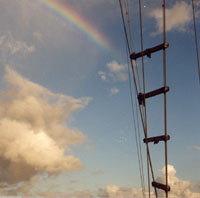 Our ratlines work fine and cost less than $30. Now we're ready to tackle the Tuamotus, the "Dangerous Archipelago." We attempted to do some final provisioning in Nuka Hiva, but there was really nothing for sale, except some small loaves of bread. After a quick trip to the gendarme to pick up our boat passport, we stopped at the post office to leave a forwarding address for the packages that hadn't arrived. It was our lucky day! They arrived that morning. We received a new base to replace our cracked commode (somehow "cracked head" doesn't sound right). It was sent under warranty. We also received replacement parts for the water maker, sent under warranty, and a "free" case for the Magellan GPS because we had returned our warranty card. All this free stuff cost about $40 for postage. At least we won't have to worry about tracking down lost mail. We also picked up some desperately wanted mail for Carina.
The Sail to Ahe and the Tuamotus
We left Nuka Hiva at noon on May 17 and headed for the Tuamotus, a group of 76 coral atolls [good map] and 2 volcanic islands. Perhaps 30 of the atolls can be visited by cruisers. Each atoll is a ring of coral reef which usually has one or rarely two passes where water flows in and out of the inner lagoon. The land on the coral fringe, called motus, is about one half a mile wide, only a few feet above sea level, and covered with coconut trees. The low profile of these atolls makes them difficult to see more than 8 miles away.
This fact, combined with a strong, westerly setting current, makes them a navigator's nightmare. With the advent of satellite navigation systems, and GPS in particular, many of these problems have been solved. Negotiating the pass is the one remaining problem. This can only be done during the daytime, preferably with the sun high in the sky and behind you, at slack tide.
The first day we headed toward Manihi, with its reasonably easy pass, knowing that we could continue on to Apataki, a half day's trip further south, if we arrived at night. The weather and the sailing were perfect, as Baba BarAnn flew across the water. During the night, the southeast wind continued to build, but we kept flying our Yankee, staysail, and full main. For the first 24 hours we went 172 miles, easily eclipsing our previous "record" of 160 miles. The Monitor windvane steered flawlessly, and we didn't seem to be overpowered, until the winds reached 25 knots.
We reefed the main, rolled up the Yankee (yea for the Pro Furl roller furling gear) and continued to fly . . . 170 miles the next day. The weather turned gray and squally, the winds increased to 34 knots, and the seas built to the 10-12 foot level. Then a turning block on the windvane broke, and shortly thereafter the PVC cup holding the bottom of the wind mill also broke. We switched on the electric autopilot, lashed the windmill to the back stay, and continued to fly toward the Tuamotus.
In one six hour stretch we averaged 7.56 knots. Some of this mileage was due to the current, but I'll take it anyway I can get it. In our daily contacts with Carina and several other boats scattered throughout the Tuamotus, we discovered that we were in the middle of a maraamu, a weather system caused by very high pressure "anti-cyclones" that come up from Antarctica. Throughout the Marquesas and Tuamotus, sailboats were pinned into their anchorages, not willing to voluntarily head to sea under such conditions. A maraamu typically lasts 7 to 10 days, and this one had just started.
From our radio contacts it seemed clear that Ahe, a few miles west of Manihi, would provide the best shelter from the strong winds. On Sunday morning we arrived at Ahe, having covered the 496 nautical miles in 70 hours, for an average speed of 7.08 knots. Unbelievable! During the last 24 hour period we covered 170 miles with just the reefed main and staysail, with winds constantly in the 28-34 knot range. Due to waves crashing over the windward side of the lagoon, water was continually pouring out of the pass on the leeward side. When should we enter?
The cruisers inside the lagoon said there was no slack tide, no time was any better than another. The wind and the water were both coming from the same direction, straight out of the lagoon. Just come into the pass with lots of power, and keep your bow pointed straight into the wind. If you get twisted sideways in the narrow pass, the coral will do major damage. Once you're in the pass, you're committed; there's no turning back. It's times like this that you think about the dirty fuel you just got in Nuka Hiva, and what would happen if the motor stalled in the pass.
We found the pass and headed in, with the wind blowing 30 knots on the bow, and three foot waves. We never would have attempted it, if we'd known what was in store for us. With the motor revving up to 3,400 RPM's, we maintained steerage, and perhaps 2 knots of forward progress. The waves and out rushing current would lift our bow so high, that I swear I could feel the wind blowing on the bottom of the hull. For one fleeting moment, I considered the possibility of pitch poling . . . backwards. Then the bow would come crashing down, splashing tons of water, which got blown over the boat. The deck was covered everywhere with eight inches of water. After a short but frightful five minute indoctrination to the consequences of poor pass timing, we made it.

Ahe
Inside, the lagoon's waters were very calm. Our battle with the pass was worthwhile. Despite high winds, Candace and I both agreed that this was the calmest, least rocky, anchorage we'd had since leaving Seattle. There were eight other boats at Ahe, waiting out the maraamu with us: Clovelly that we'd first met in Cabo San Lucas with Ken, Carolyn, and their son Jamal from Vancouver, BC; Wizard with Loretta and Charley that we'd met in Tahuata, Wazumi a Japanese boat that we hadn't seen since Cabo; a German boat, a French boat, Kokana with Chuck and Koko; Hybrid with Rob and Lance from Seattle, and finally Night Music, a fabulous yacht with air conditioning and everything else. She was sailed by an English couple for her owner in Los Angeles, who, most bizarrely, preferred to sail on the long passages, and then had the hired hands take her the short hop from the Marquesas to Tahiti. Later on we were joined by Begonia from Seattle.
One night we had nine people on board for a pot luck birthday party for Lance. The next night eight of us played Pictionary. I came in last, but what's new? Our last night in Nuka Hiva, I was told  that masking tape on the leading edge of the wind mill blades would eliminate all noise. When we got to Ahe I tried it, and it works perfectly. With the maraamu winds blowing up to 20 knots inside the lagoon, our newly quieted wind mill produced about 100 amp hours per day. I also fixed the wind vane, better than new.
Copra trade leaving Ahe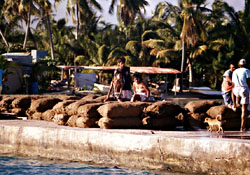 We went snorkeling near a large coral reef inside the lagoon and marveled at all the beautifully colored fish. Because of ciguatera fears, we didn't catch or eat any of them. We met a few of the locals, and played volley ball with them. No one kept score, and it was very low key, but a good cultural exchange. We met Hiti who was massively fat, spoke a little English, and played a great ukulele.
We walked around the village where approximately fifty adults lived with 30 children. None of the children appeared to be older than eight. We were told later that the older kids are sent off to school on other islands. These little kids on Ahe were the happiest, least shy, and most carefree I've ever seen anywhere. I think it's primarily because they didn't have any "big kids" around telling them what to do.

After a week in Ahe, the maraamu winds left and we were ready to go. Carina, all alone down at Apataki for almost two weeks, was starting to go a little stir crazy, and was eagerly awaiting mail. The trip south to Apataki is a difficult one due to the fifty mile distance. Fifty miles is almost too long for a daylight trip, and too short for an overnight trip. But it's imperative to leave and enter the coral passes during daylight. We got up at 0515 and were motoring toward the pass as soon as we had enough light to see. By 0600 the sun was up and we had reached the pass. This time it was very calm and we slipped out with no problem at all.
Later that afternoon we easily crossed over the pass to Apataki. Sharing this large lagoon with Carina was Anahita from Montreal. We meet George and Louise while at Tahuata. George took eight years to build Anahita, an aluminum hulled sloop. They're planning to ship their boat from New Zealand so that Louise can resume her job as a psychoanalyst. Right now, she is recovering from dengue fever. She is the third person I've met who picked up this disease in the Marquesas. It's transmitted by a mosquito that has bitten someone carrying the disease. After the usual 5-6 day incubation period, the victim is miserable for 3-12 days with high fever (often 104 degrees) and no ability to hold down food. We talked to her just after she recovered, and she looked like she'd crawled through hell. We all felt very sorry for Louise.
We snorkeled and looked at the fish, then walked to the other side of the motu and found the remains of a shipwreck, probably a Japanese fishing boat. It was easy to gather armfuls of nice coconuts. The real challenge was husking them with a dull hatchet. I quit after the ninth one. So long as the water is still inside, they'll stay fresh. While at Apataki we also met Rainer and Heide on Rolling Home. We were to become good friend with this German couple and link up with them many times on the remainder of our trip,

To Papeete
After four days in the deserted isle of Apataki, it was off to the bright lights of Papeete. This would be our first taste of civilization since leaving Mexico two and half months ago. What were we craving? I was focusing on an ice cream sundae with lots of chocolate sauce. Candace couldn't stop thinking about a big tossed salad. Chuck, I guess as his name would imply, was looking forward to some good red meat. I'll have to ask Bev if she was dying for something to drink. The trip to Papeete had the same problem as the trip to Apataki. Without very strong winds, it was too long, at 226 miles, for a one night trip, and too short for a two night trip.
We sailed for a day, hove to for six hours, resumed sailing as slowly as possible with a double reefed main and staysail, and still arrived too early. Despite the assurances of many other cruisers, we think it's bad judgment to enter any harbor a night. One boat hit the reef trying to enter Papeete two nights earlier. Twenty five miles offshore, we hove to starting at 2200. Except for one knot of current, Baba BarAnn remained stationery in the 20-24 knot winds.
Our introduction to Papeete was just an average day for the "Papeeters" (Papeeteans? Papeetonians? Papeetites?), but to us it was especially picturesque. In the background, Tahiti's beautiful mountains and valleys were spread out before us, while natives practiced rowing their canoes (called piroques) in the harbor for the big races coming up on Bastille Day. We were rocked back to reality by the wake of a ferry boat zipping just behind us and into the harbor. Cars were speeding along the road beside the quay. Yes, there was even that faint aroma of exhaust. Large neon lights implored us to "BUVEZ COKE." Welcome back to civilization.