Chapter 1 - The Getaway
The first time I sailed "offshore" I was thirteen. My friend, Mike Poor, and I sailed his Herreshoff 12 1/2 two miles off the Marblehead lighthouse. The fog rolled in, putting land out of sight. It wasn't luck that we'd had a good chart and a compass. Basic navigation skills and a healthy respect for the sea were lessons from earlier years. But I'll always remember that combined sense of adventure and responsibility as we plotted our way through the fog, from racing buoy to navigational marker, until we located our mooring buoy.
The sense of accomplishment was great, yet I couldn't share it with my parents. They would have had "a fit" if they knew Mike and I were out sailing in the pea soup fog. Nevertheless, it was an experience I sought out several more times that summer.
The first time I seriously considered long distance, off-shore passage making was after reading William F. Buckley's book, Atlantic High. While Buckley's book may have planted the seed, my neighbor Wynn Kampe nurtured the seed. He was planning a trip around the world and was a never ending source of good advice. Finally, hassles at work provided all the fertilizer the seed needed to blossom into a full blown dream that had to be fulfilled. Unfortunately for Wynn, his trip ended tragically in Argentina, but not before he fulfilled one of his life long dreams, sailing around the Straits of Magellan.
On the outside of Vancouver Island, July 1988
Three months later, on April 15, 1989, my wife Candace and I resigned from our high stress consulting jobs. We had already purchased a Tashiba 40, a.k.a Baba 40, built by Tashing, which is a traditional, rigged cruising sailboat. We named her Baba BarAnn after the Beach Boy's popular song, and dreamt about her carrying us to distant beaches. Why wait? Do it now! Our lives took off on a completely new , as we feverishly prepared for a long term sailing adventure. We worked seven days a week, trying to check off all the tasks that accumulated on our "to do" lists.
We read many books written by other cruisers . . . Hal Roth, the Pardey's, the Hiscock's. We wound down one lifestyle and wound up another. We canceled insurance and subscriptions, stored furniture, changed addresses, closed bank accounts, leased out our house, moved onto the boat. We learned about ham radio, navigation, provisioning, DC electricity, marine plumbing systems, customs, charts, first aid, and Spanish. August 21, 1989 was circled on the calendar as the date of departure. That would make it possible for my fifteen year old son Alex to join us on the first leg to San Francisco, and still get back to school for his sophomore year. The lists dwindled; we made it happen.
Can you imagine our excitement, our apprehension? The longest trip we'd taken was a one month circumnavigation of Vancouver Island. We'd never sailed offshore more than a few miles, and never over night. How far would we get?

We're Off!
On Sunday, we dropped off our car with Alayne, one of Candace's best friends. She said she'd try selling it for us, and did within the week. Late in the day Joel, my long-time friend and bridge partner, stopped by with a bottle of Champagne and final best wishes. That was really nice. That night we walked up to Azteca on Market Street for the "last supper" in Seattle. Shortly after arriving back at the boat, around 9 PM, one of Alex's friends showed up to say goodbye. She didn't leave until 10:30 or so. So our "finals" (that's ham talk) had been said and we were ready to go.
Monday morning, drop off the key with the marina, top off the water tanks, and then through the locks. I won't be missing them any! One of the first things I noticed was the failure of my instruments to register "boat speed." In two years of owning the boat I've never had a problem with that. Now, when I'm pulling away from the dock on my lifetime saga, it craps out on me! Well, that's something I'll have to deal with much later. Then to Shilshole to top off the diesel tank. While there I started talking to a guy who was filling the tanks in his large, beautiful, $500,000+ (I can't tell when they get that big) power boat. When he asked where we were going, I couldn't resist saying "around the world." After chatting some more, he said that he owned a small winery, Salmon Bay, and gave us three bottles to send us on our way. We later discovered they're very good . . . definitely much better than the caliber I'm used to buying.
Now we wanted to take a spin around Elliott Bay and "say good bye to the office," and perhaps rub it in a little. The Seattle marine operator would not take our International telephone card, since it was a local call, and she wouldn't take VISA. What to do? So we called them collect and of course the switchboard operator accepted the call! Then we around and headed north to Port Townsend, our destination for the first night. By Point No Point, the wind was swinging around to the north, and it was quite threatening. The windmill was screaming and rain was starting to spit. While the mainsail, the windmill came apart! Two of the four bolts holding the rudder on the windmill had shaken loose, making the whole device rattle like crazy. By now it was raining sideways, with the wind gusting to 29 straight from the north, and starting to get dark.
Port Townsend seemed a bit optimistic, so we headed over to Port Ludlow to lick our wounds. Into the little harbor at Port Ludlow, we anchored for the night and had a great steak dinner. The rain had stopped long enough to use the BBQ. Early next morning we headed to Port Townsend, in the drizzle, to get the reefing system fixed properly. While there, Alex and I took down the windmill and fixed the rudder. We also replaced the 6 foot shaft for the blades, which I felt made way too much noise with no appreciable increase in output, with the standard 5 foot shaft. Candace picked up some more sail repair stuff at Port Townsend Sails. [Detailed Map of Washington State]
At 1400 we hit the at Point Wilson, and started motoring out the Strait of Juan de Fuca. Although the tide was turning against us, and there was no wind, the sun finally came out, and spirits were high. We had fixed all the major problems, and headed to Port Angeles for the night. While picking up a mooring buoy, near the ferry terminal, I noticed two cruising boats from Alaska. Cruising boats are distinctive by all their clutter on deck. Several water and diesel jugs strapped to , bicycles sometime attached to the shrouds, a BBQ, life raft, extra anchors, outboard motor on the , and of course a dinghy somewhere. I wondered if they had just come down from Alaska, and where they were headed.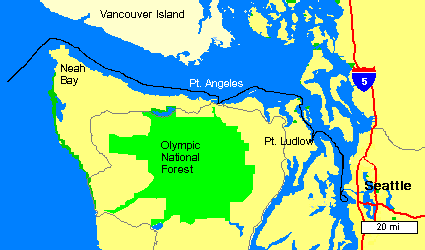 Next morning at 0800 we motored into the thick fog and headed west. One eye was glued to the radar, while the other tried to peer through the fog. There are some major size LOGS out there! Like 20+ feet long and maybe two feet in diameter. While missing tankers to the north (at least they were showing up with regularity on the radar) and dodging logs, we were "surprised" from time to time as we slid within 50-100 feet of some very small fishing boats. These were 12-18 foot open boats with one or two fishermen who would wave and give us a toothless grin, as we passed them in the fog. If only they knew how close disaster was! Because of the 5 foot swell in the Strait, they weren't distinguishable on the radar from the "sea clutter." If we hit them they really would have been sea clutter.
About 1700 we were abeam Neah Bay. The weather forecast was for more overcast skies and fog the next morning. We saw no advantage to spending the night there, so out into the Pacific we continued, heading toward the SW and wanting to leave the fog, shipping lanes and trecherous rocks. Just past Cape Flattery, the radar helped us avoid collision with a tug and 300 foot barge. It was invisible until perhaps 100 or 200 feet. At 2000 the wind freshened, and veered to the north, so we turned off the motor, hoisted sails, and continued down the coast.